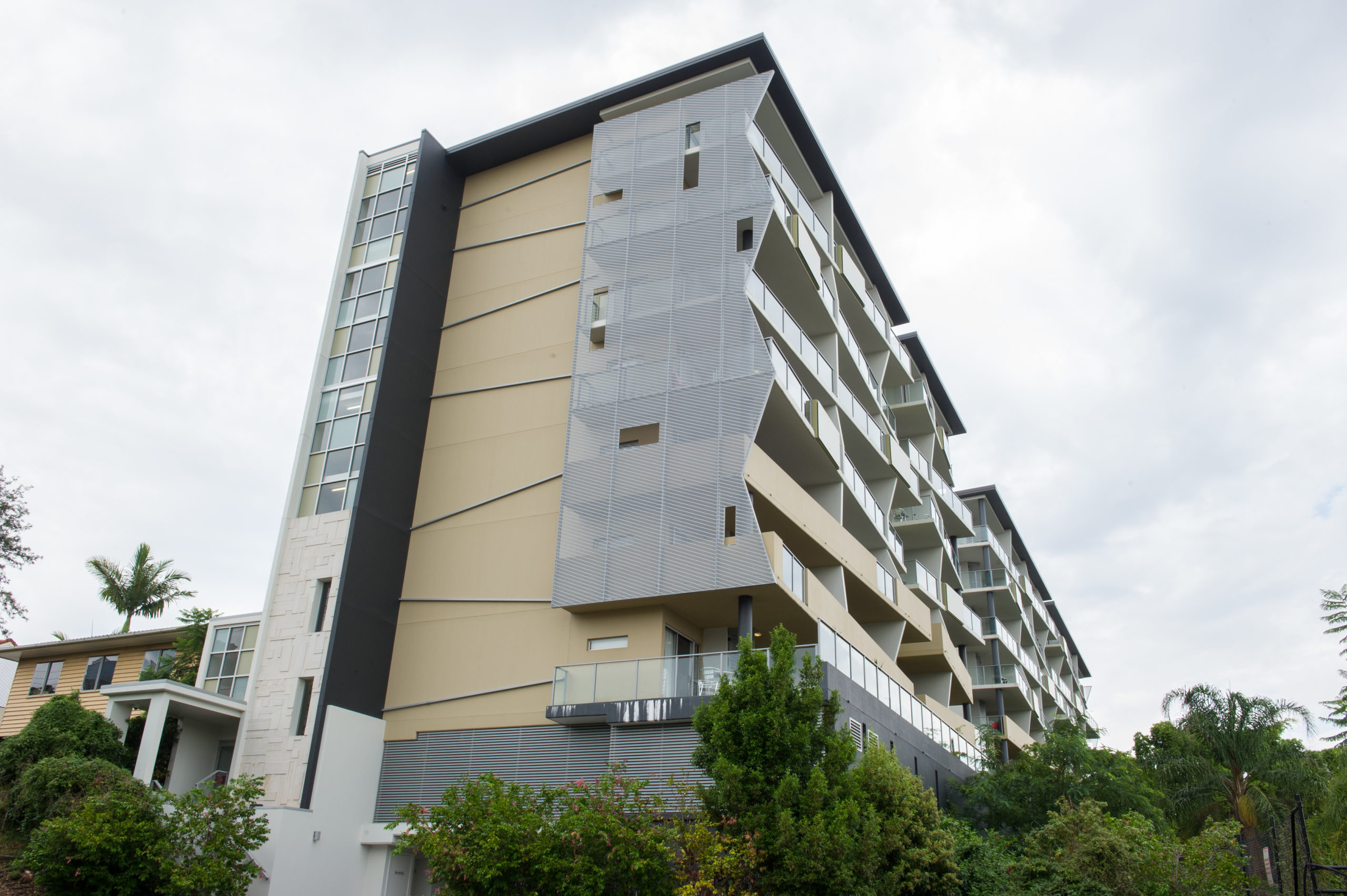 Your space to share
48 Walcott Street offers apartment-style living on campus just moments from your classes.
These residences are equipped with everything you need to prepare meals and do your laundry, as well as space to concentrate on study – and spectacular city views from your own private balcony.
Prices include utilities and internet, are listed in $AUD and are subject to change. Prices are per person per week based on a full year booking. A bond equal to 4 weeks rent and 2 weeks advance rent is required to secure your booking.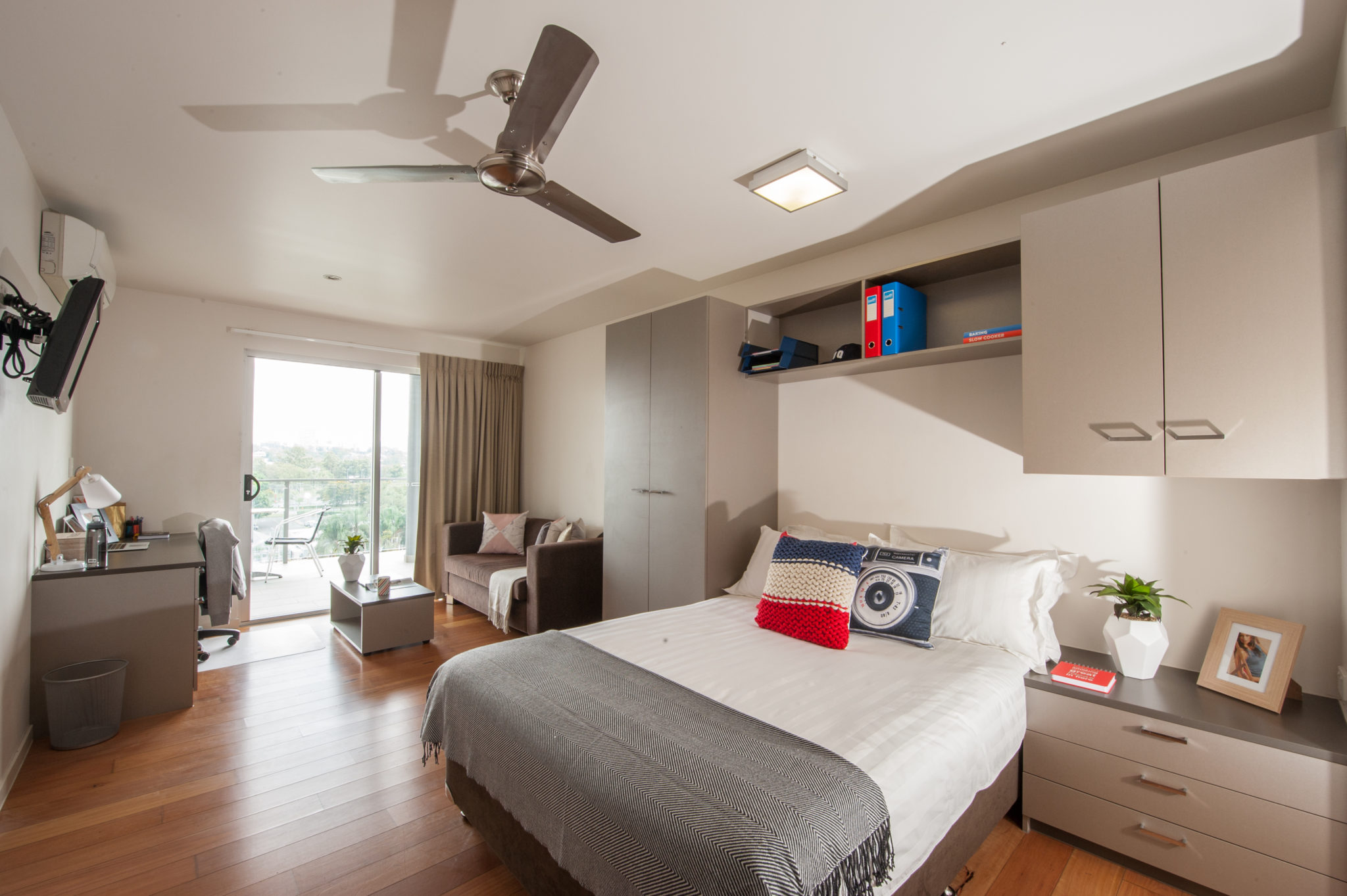 48 Walcott Street by UQ Res sets a superb standard in student accommodation at St Lucia with a room to share.
A tastefully appointed two bedroom apartment awaits you and a friend to share, study and cook together.
Smart and secure. Secure card entry.
Everything included. All utilities such as electricity and water are in your rent.
Browse the web — Fast! Unlimited, super fast internet is available for all via Ethernet cable.
Safe and secure. 8am to 8pm concierge weekdays and security on site for peace of mind.
Convenience. World-class UQ facilities are just minutes away.
YOUR PLACE TO LIVE, STUDY AND PLAY.
all you need to feel at home
48 Walcott Street elevates classic student accommodation with thoughtfully updated features for tomorrow's UQ student. Everything is in place so you can concentrate on uni life.
Barbeque
Fire up the barbie with your friends! The all-electric BBQ facilities are located in the ground floor common area and are free for all residents to use.
Common Areas
48 Walcott Street features an expansive ground floor common area with views all the way to the CBD – as well as seating, BBQs, fridges, a giant chess set, games tables and a vending machine.
ON-SITE STAFF
Your wellbeing is our focus. Our on-site, friendly team members can provide general assistance and pastoral care services.
Car Park
Talk to us about one of the 67 secure, covered carparks at the property. They are available at an additional fee, based upon availability.
Laundry
With your convenience in mind, all apartments feature a washing machine and dryer. It's free and ready to be shared by yourself and your roommate.
Kitchens
The kitchen in your apartment features all the essentials, including a fridge/freezer, cooktop, ducted range hood, dishwasher and microwave oven.
A Community To Call Your Own
UQ Res Gives You More
Much more than a place to live while you study – 48 Walcott Street is designed to be a thriving community of like-minded learners with all the support you need.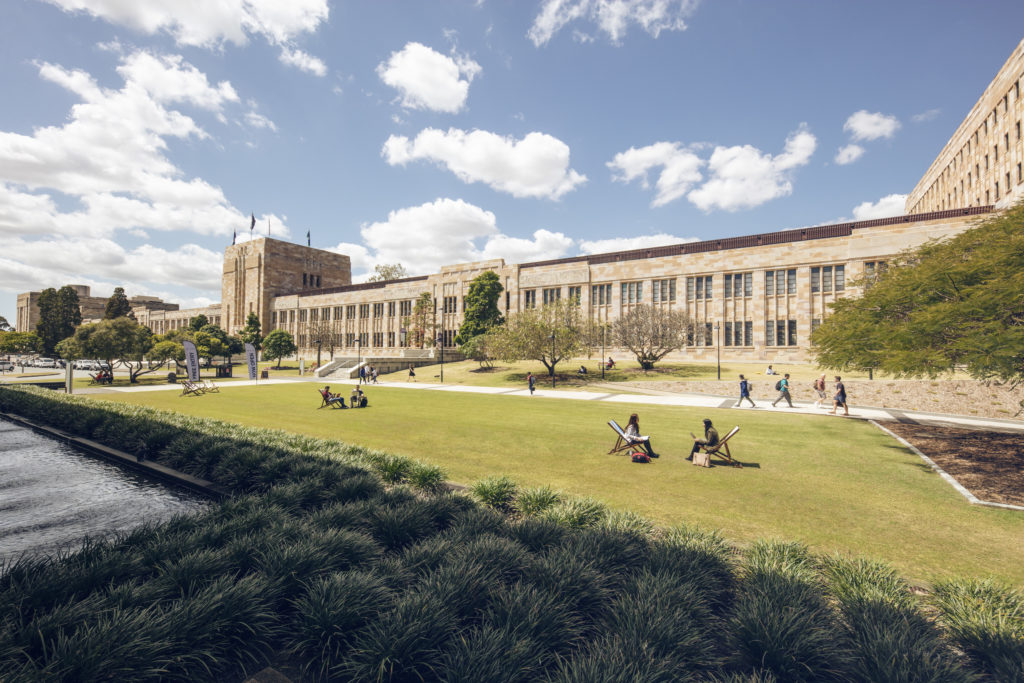 Part Of UQ
From campus-wide study spaces to the UQ Life program, you have a whole university behind you when you're at UQ Res.
Support For You – 24/7
Our focus on mental health, wellbeing and student welfare ensures everyone has the support they need.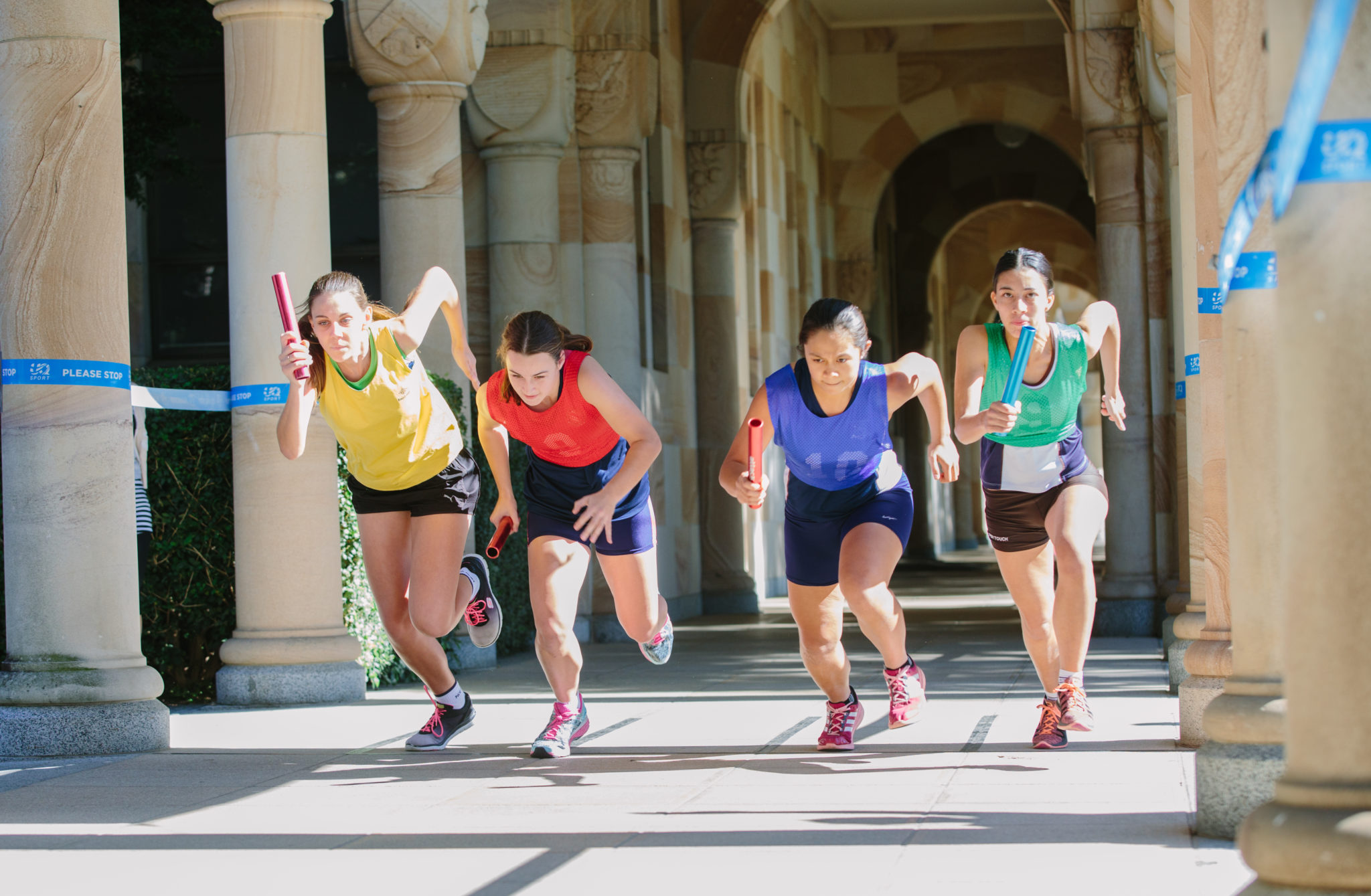 Access To Uq Sport
At UQ Sport, St Lucia, you'll find Athletics, Aquatic, Tennis and Fitness Centres, as well as a selection of grass and synthetic playing fields, indoor and outdoor courts.
All-Inclusive
Your rent includes everything such as water, gas, electricity, insurance and high-speed Wi-Fi.
Thoughtful Design
Design elements inspired by local and Indigenous history are woven through the architecture and gardens.
Residential Advisors
UQ Res has a Residential Advisor to student ratio of 25:1, which is one of the highest in the market.
Public Transport Stops near 48 walcott street
The property is in a great location with close access to public transport.
There is a bus stop which goes to Indooroopilly or the Brisbane CBD 150m away, a City Cat stop within 350m.
Ride share partners available to take you where you need to go, day or night.
Two bus terminals on campus.
UQ St Lucia has its very own ferry terminal. You are only ~ 20 minutes away* from Brisbane City.
*Based on standard TRANSLink timetable, Monday to Friday.
What's around UQ Res 48 Walcott Street
UQ Res 48 Walcott Street Common Questions
How do I reserve a room at Student Living UQ – St Lucia?
Contact us on the below details:
48 Walcott Street, St Lucia, 4072
Queensland, Australia.
E: [email protected]
What kind of contracts does Student Living UQ – St Lucia offer?
What does my rent include?
Electricity, water, gas and internet
Do you have car parking facilities?
Yes, we have parking available for UQ Res residents (based on availability).
When do I pay my rent?
Depending on your contract, you will pay fortnightly, quarterly or a full term in advance.
How does my mail get to me?
Via your letterbox located at the front of the building or to the parcel locker.
What do I need to buy before I can move in?
How close is the nearest supermarket?
If I really want to move rooms after I move in – is that possible?
Upon availability – break lease fees will apply.
Can I move out at any time?
Yes, however break lease fees will apply and you will be required to continue paying your rent until a new tenant is found.
Is there extra storage outside my apartment?
No there is not. If you have items that you wish to store you will need to contact the local storage service provider.
How do I connect the internet/phone?
Your internet and phone will be ready to connect when you move in. Cable will be provided and the connection can be easily set by assigning a username and password.
Is wireless internet available?
What is a Bond?
A bond (also known as a 'security deposit') is an amount of money that you need to pay that can be used by the apartment owner if you do not meet the terms and conditions of your tenancy agreement. Examples of this include If you fail to keep the property clean, cause damage or are in rent arrears, the owner of the property may claim some or all of the bond only when the tenancy ends. The majority of bonds are refunded in full as most UniLodgers vacate with no issues.
How much is the Bond?
If your rent is $700 a week or less on a General Tenancy Agreement (or $500 a week on a Rooming Accommodation Agreement), the bond cannot be more than 4 week's rent. The Owner cannot increase the bond during your tenancy. If you are paying over these amounts then the Apartment owner may request a higher Bond amount. The amount you will need to pay for your bond is listed on the prices page and will be confirmed again with you prior to your arrival.
Paying the Bond?
All rental bonds for properties in Queensland are lodged with the Residential Tenancies Authority (RTA) a state government body. Payment must be made payable to the RTA (not UniLodge). We ask that you provide us with a bank cheque (a bank cheque is a cheque issued by the bank under their name; you can purchase one of these from any Australian Bank). Alternatively, a money order (Available from Australia post) is acceptable. Remember the cheque/Money Order must be made payable to the 'Residential Tenancies Authority'. Bring the bond cheque/money order with you when you are collecting your keys, At this meeting, you will complete and sign the official "Bond Lodgement Form". We will forward this to the RTA and then the RTA will send a receipt to you direct. Contact the RTA on 1300 366 311 if you have not received a receipt 15 business days after paying your bond. We understand that it may not always be possible to arrange for either a bank cheque or money order prior to arrival and in these instances we recommend you take advantage of the RTA's online bond lodgement option and bring a copy of this with you when you arrive.
What is a Condition Report?
When you pay a bond, we must prepare a 'Condition Report', which records the property's general condition, including fittings and fixtures, and present you a copy of this report via the UQ Res Portal when you come to collect your keys. Review and, if necessary, add your comments to the 'Condition Report'. You must complete your report within three business days of moving in and you should keep a copy of the 'Condition Report' until the end of the tenancy.
The 'Condition Report' is a very important document, as it can be used as evidence if there is a dispute about who should pay for cleaning, damage, or replacement of missing items, particularly at the end of a tenancy.
You may want to take photos of your apartment at the start of your tenancy to further show the condition. The owner may claim some or the entire bond for cleaning, damage, or replacement of missing items at the end of your tenancy. If the 'Condition Report' stated that the work was required at the start of the tenancy, or the items were not listed, it can help you prove the bond should be returned to you.
I am vacating, can I use the Bond for my last months rent?
Your bond and rent are separate payments. You are required to pay rent in the specified way up to and including the date of your departure.
What happens when I vacate?
You need to leave your apartment clean and tidy in the same condition as when you arrived, and ensure all personal items have been removed, report any damage that may have been caused during your tenancy. This allows for a speedy bond resolution.
How do I receive my Bond back?
At the end of the tenancy we will provide you a "Bond Claim" form for completion (or you can download your own copy from the RTA website), Please ensure you sign the form with the same signature as you used on the "Bond Lodgement" form at the start of your tenancy. The RTA will match signatures and will only process your claim if they match. We will lodge the bond claim form once we have the owner and your signed agreement, it then takes another 2-3 business days for the RTA to process, it repays the bond directly into the nominated Australian bank account on the form, If you have not provided valid bank account details, but have provided a forwarding address, the RTA will send a cheque. If the RTA is unable to do either of the above they will retain your money, you will need to contact them via phone on 1300 366 311 to organise for your refund to be released to you.
Why are you claiming my Bond?
The Owner is entitled to compensation if you have failed any terms or conditions in your tenancy agreement or breached the Residential Tenancies Act (Queensland State Government Law covering rental issues). Please note that the owner cannot claim for wear and tear of items or fittings in the apartment. At UniLodge the vast majority of these sorts of issues are resolved by agreement between the owner and the tenant. If there is no agreement then the Owner may decide to ask the Queensland Civil and Administrative Tribunal (QCAT) to hold a hearing to finally decide on the issue. Please note if the matter goes to QCAT then the resolution of the bond will exceed the timeframe mentioned above as we must wait for a hearing date from QCAT.
What are your check-in times and days?
Monday to Friday 9am to 4pm.
Do you offer after hours check-in?
Please arrange prior to move in with UQ Res via 1800 935 977 or +61 7 3837 9595
Why Live And Study With us at 48 Walcott Street
When you're a UQ Res resident, we want you to feel safe and supported. We want you to make the most of your time at UQ. Most of all, we want you to feel at home.
UQ | ST Lucia
Living at UQ is one of the best decisions I have ever made so if you're thinking about applying just go ahead and do it.
Shania
First year student
UQ | ST Lucia
The friendships I have formed thus far are friendships for a lifetime, and I truly believe I would not have met the same diversity of people if I wasn't at UQ.

There is always something going on, and it's always a fun time. I strongly recommend for everyone thinking of starting at UQ to apply, it is one decision you certainly will not regret!
Alex
First year student
UQ | ST Lucia
Living on campus is also convenient as I am only a short walk to the library, post office and classes. This means that instead of travel time, I can spend more time focusing on my studies.

If you are the sporting type or just enjoy keeping fit and healthy, there are lots of sports clubs you can join as well as free access to the UQ Res gym and lots of training programmes.
Will
First year student
Advanced Waitlist Target